Hello beautiful people. I'm back and writing to you on a couch in my new apartment…in London. Did I say I was moving to London for a little bit to study abroad? Well, I moved to London for a couple months to study abroad.
Here's a pretty picture to make up for my absence: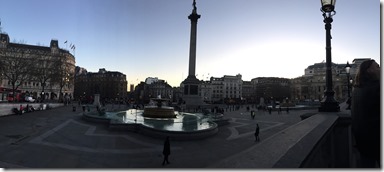 Although my transition to this big city where I never know which side of the street to walk on hasn't been as difficult as I thought it would be, I've been away the activist community I've been a part of at home and I haven't been participating in the same events or in the same spaces that always gave me ideas and content.
Even though I am unbelievably lucky to do so—moving here, leaving behind my friends, family, and comfort, without a place to live, was one of the scariest things I've ever done. There were many times when I thought I wouldn't even go. I had projects and communities I didn't want to leave behind.
I'm working to build that community here and I'm starting to feel more at home. Every now and again, it's good to switch things up, start new projects, and join new organizations. I'm excited for this even though it's nerve wracking.
This semester I'll be working in local politics which is entirely different to the non-profit and organizing world that I'm used to.
In my last post, I told myself that the theme of 2016 was to be unapologetic—I'm sticking to that and that theme is carrying over into my study abroad experience. In my last post, I wrote that I'm going to demand more from the people and relationships in my life, but I'm also going to demand more from myself.
I want to put myself outside of where I feel comfortable, to be in spaces where I feel out of place so then I have to work harder to figure out how to fit there.
This has caused me to have to have to watch, learn, and pay attention. For example, at my political internship, I know almost nothing about British politics or working in local government. So I have to watch people, see what they're saying and doing, and look things up.
This is relatively new for me. I'm used to doing hands on work and completing self-directed projects. Now I'm shadowing people and watching what they do. I like getting a different perspective, it's helping me slow down, not take on a million things at once, and ask questions.
There's definitely value in learning from other people and not placing pressure on yourself to feel like you have to know everything already.
For those of you back home starting a new semester this week, I urge you to set some goals like this for yourself. Put yourself in a space where know nothing. That way, you have to learn something new.
It's refreshing. Much of activism is community-based and requires collaboration and learning from one another. So this learning is valuable.
I really appreciate these lessons I'm getting while I'm away from my activist community back home in the states.
On a similar note, I'm currently working on a semi-secret new project. Once again, I don't know anything. Still, I'm weirdly enjoying figuring it out, messing up, taking breaks, and trying again. I'm also not entirely on my own. I have a mentors who I talk things out with and turn to for guidance.
I like not knowing anything, being out of my comfort zone, having to sit down and figure it out, and learn from others.
It's not real, rewarding work if you don't have to put in some effort.
Well, before I get to rambley and like an annoying motivational speaker, I think I'll end this here.
Go learn some new things,
Christina