A few days ago, I walked for hours around a part of London I'd never explored before with my Women in Britain class to learn about influential women and their contributions to modern day society—all of women I'd never even heard of before.
The tour gathered outside the Whitechapel tube station in East London. This was an important starting point given the fact that East End of London used to be the home to majority poor immigrants who were unwelcome and place in the same area as all the industry, factories, and pollution. Back then, nobody went out of their way to go to the East End like we did and nobody walked around during their leisure time. In fact, when I looked around at the sights, the shopping centers, skyscrapers, our tour guide told us that the air used to be so contaminated with dirt and ash that you wouldn't have even been able to see the buildings in distance.
The people of Whitechapel were literally separated from everyone else.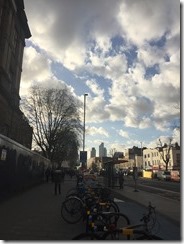 It gave me an interesting look at the intersection of class, gender, and economic opportunity. These people—who were primarily poor immigrants—worked in poor condition in a toxic environment to produce the products and industry that benefited upper-class people.
Similar to what I noticed at the Imperial War Museum exhibit I wrote about last time, the working class women bore the brunt of the hard work in order to survive and keep the resting of London functioning.
From there, we went on to learn about the impact that women had on the lives of others around East London—something I've never had a chance to learn about before. Despite the impact that these women had on contemporary society, nursing, and education, they have been excluded from mainstream history lessons. For example, Princess (and later Queen) of Wales, Alexandra supported the nursing profession and set up labs to work on cures for diseases.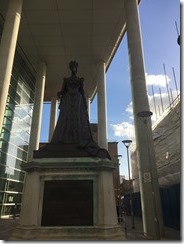 I hope that one day women's accomplishments, history, and impact won't be sectioned off as a "specialty" or "other" category that's separate from the history we learn about in the classroom. I wish I didn't have seek out these history lessons on my own through the internet and through taking specific gender studies classes. There shouldn't be just "women's history" or "women's studies," but the accomplishments should just be acknowledged and not overlooked.
I shouldn't have to go out of my way to learn about these women and their contributions to mainstream society—they should be included in what we learn about history. If we learn about influential women—past and present—in institutional spaces like the classroom, it will reinforce the idea the accomplishments of women made a difference in our world and they shouldn't be taken for granted.
For example, one woman in particular that stood out to me was Eva Luckes. Luckes was a matron at London Hospital for thirty-nine years and she made many improvements to the nursing profession and in hospitals in general. In fact, she was so dedicated to her work that she even died at her desk during a shift. Despite being the youngest one there and having to prove herself, she left a strong legacy at the hospital. For example, she came up with the idea of giving sick children spaces to keep their things to make the hospital feel a little bit more like home.
As we kept walking through the streets of London, I saw the places these women once worked at, the charities they started, the community centers they ran, the pubs they went to, and apartment complexes that were targeted during World War II.
I saw the places that facilitated their accomplishments and wished that I could have learned more. As a woman, it's encouraging to see what young women have done to make their communities and workplaces better.
I also liked how the tour guide highlighted the ways in which the majority of these women worked together and worked for others. Furthermore, many of them looked out for those who lived more on the margins than them, those who were poorer and less privileged.
This should be the aim of contemporary feminism—to consider those who have less social power.