Discovery Girls Magazine describes itself as "a magazine created by girls, for girls." Given that the magazine is aimed at girls as young as eight, I was shocked to come across an article on my newsfeed today titled: "What Swimsuit Best Suits You?"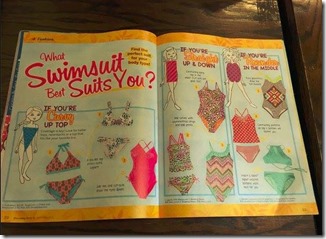 The layout of the magazine. Image Source.
The underlying premise: it's never too early to teach young girls that their value comes from their bodies.
With lines like, "Find the perfect suit for your body type," the message that can be discerned here is: only certain bodies deserve to be seen. It also sets up the idea that there are rules for how girls should present their bodies.
Have a curvy body? According to the spread, you better get yourself a one-piece.
The diagram reads: girls who are "curvy up top" should go for a one-piece with "side ties and cutouts that draw the eyes down," while those who are "rounder in the middle" should opt for "busy geometrics" that "draw the eye inward."
Let's pause here for a moment. Who exactly is looking at these girls and why are these girls being painted as spectacles to be looked at in the first place? The implication here is that girls' bodies are inherently sexual and there to be gazed at.
If we really want to help boost confidence in girls, then we can't perpetuate narratives that their worth and self-esteem should rest in how they look to others, and in how desirable they are.
Let's not forget the message that your confidence is inherently linked to what you wear and all it takes to feel confident in your body is finding the right swimsuit. The idea that happiness and feeling good about yourself are rooted in your appearance is a capitalist invention that many industries profit off of. And it doesn't even work.
The angry response to the swimsuit feature led the Discovery Girls publisher to post an open letter acknowledging their mistake on Facebook.
A statement from the letter reads: "The article was supposed to be about finding cute, fun swimsuits that make girls feel confident, but instead it focused on girls' body image and had a negative impact."
I appreciate the response and the acknowledgement, but why does it take a swimsuit for a young girl to feel confident? Why does her confidence have to come from her appearance and her clothes? We have to remember that there wouldn't be a similar article in a magazine targeted towards boys about what to wear to feel confident. In fact, we don't feel the need to teach boys confidence at all.
So why do we teach girls to gain confidence through their looks?
Let's look at the issue with this feature intersectionally now. Bikinis and swimsuits—we are told by the media—are for thin, able-bodied, and conventional bodies that are almost always modeled by white women. So for women and girls who live in unconventional bodies, it can be incredibly difficult—if not impossible— to feel good in a swimsuit.
That's why this equation for confidence is not nearly enough. This does nothing but reinforce the status quo—operating under the thin ideal and norms about bodies.
I'll admit it, I've fallen into this trap myself. I've written on this very blog about how I've grown to feel comfortable in my unconventional body wearing sports bras out in public and bikinis on the beach. But why is that what it took for me to stop feeling so bad about myself?
But you should know that I didn't wear a bikini when I was nine. I already thought I didn't have the right body type for it. So what about those girls? Where should their confidence come from?
Simply wearing the "right" thing won't fix anything, it won't suddenly boost self-esteem and it rests in the notion women are inherently insecure.
So let's redefine how we teach body acceptance and confidence. Let's teach young girls that you can like how you look and wear what you want regardless of whether or not it is "perfect for your body type" because that does not define you. Let's teach young girls that feeling good about oneself can come from a variety of avenues that go beyond appearance—like talents, personal accomplishments, the ability to make people laugh or be a good friend, and so on.
Let's challenge this narrative of bodies and confidence because we can do better. For the young girls reading this magazine and picking up these messages, we can do better.